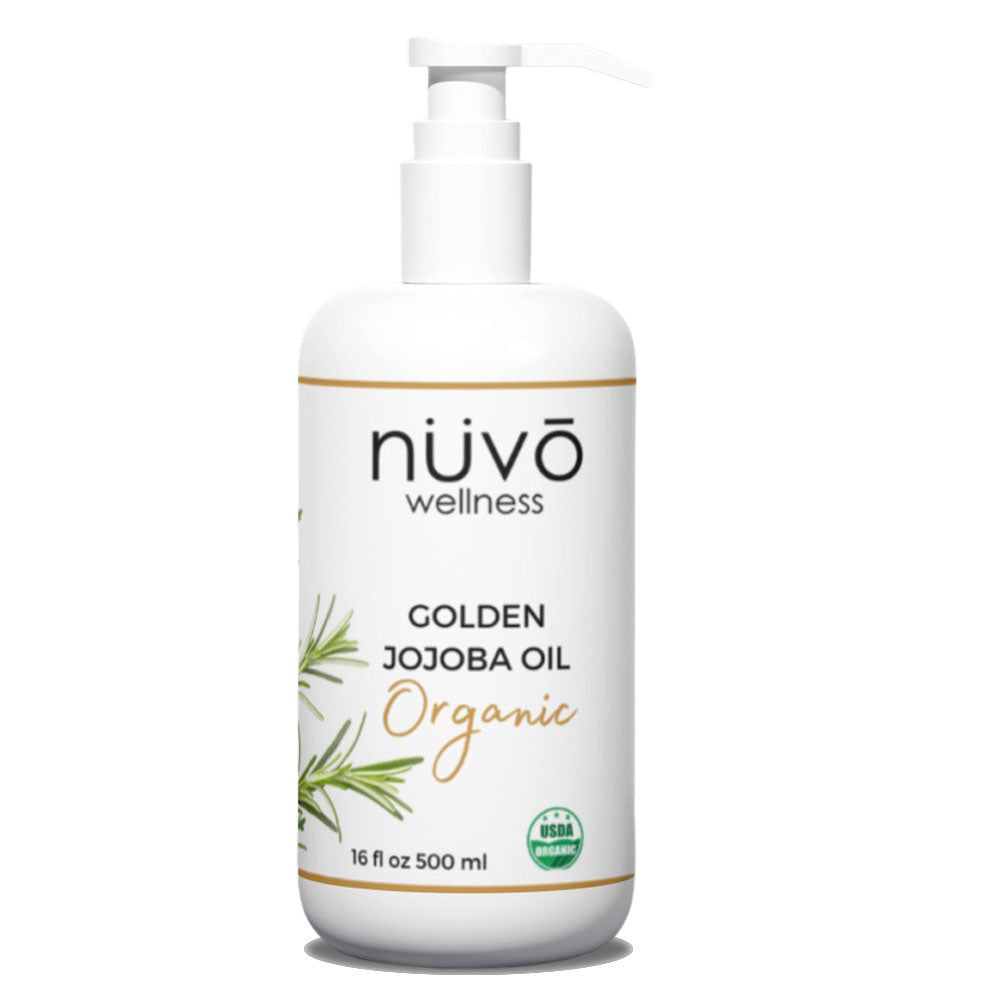 USDA Organic Jojoba Oil - All Natural and Pure - 500ml
---
In stock, ready to ship

Inventory on the way
Looking for a gentle yet effective makeup remover? Discover Organic Jojoba Oil - Pure, Natural, and Luxurious! Can it really dissolve and whisk away all your makeup woes?

Experience the purest form of self-care with our USDA Organic Jojoba Oil, a 500ml bottle of natural liquid gold. This all-natural elixir is a beauty multitasker, your secret to radiant skin and luscious locks. As a makeup remover, it works wonders, effortlessly dissolving even the most stubborn cosmetics, leaving your skin refreshed and clean. Say goodbye to frizz and hello to silky-smooth hair by using it as a hair mask or pre-wash treatment.

It's your shield against dryness and split ends, thanks to its deep moisturizing properties and a treasure trove of hair-nourishing vitamins. This 500ml Organic Jojoba Oil is a gift to your skin and cuticles, providing intense hydration without any heavy, greasy feeling. Plus, it's USDA-certified organic, ensuring purity and quality. Embrace nature's beauty secret and enjoy the lasting benefits of our 500ml Organic Jojoba Oil.
Features:
USDA Organic Jojoba Oil - 100% Natural and Pure.
Versatile makeup remover: dissolves sunscreen and mascara.
Ideal for hair care: mask, frizz control, and scalp treatment.
Nourishes hair with vitamins, preventing split ends.
Non-greasy, long-lasting 500ml bottle for skin and cuticle hydration.
kk
Use Jojoba Oil as a Makeup Remover - this all-natural ingredient can dissolve and whisk away everything from sunscreen to waterproof mascara. Because oil dissolves oil, it can be used to bind to and remove makeup.
Use as Hair Mask or Smooth Out Frizzy Hair - Jojoba oil makes a fantastic DIY hot oil or pre-wash treatment for dry hair or an irritated scalp. keeps the hair well moisturized and keeps you from getting more split ends. Jojoba oil also contains multiple vitamins in it that strengthen and nourish the hair. Not only does it hydrate effectively, it doesn't weigh hair down.
FANTASTIC VALUE - Our 500ml Organic Jojoba Oil will keep you moisturized for a long time.
Soften your Skin - Use around your cuticles or slather the jojoba oil on your skin to moisturize.